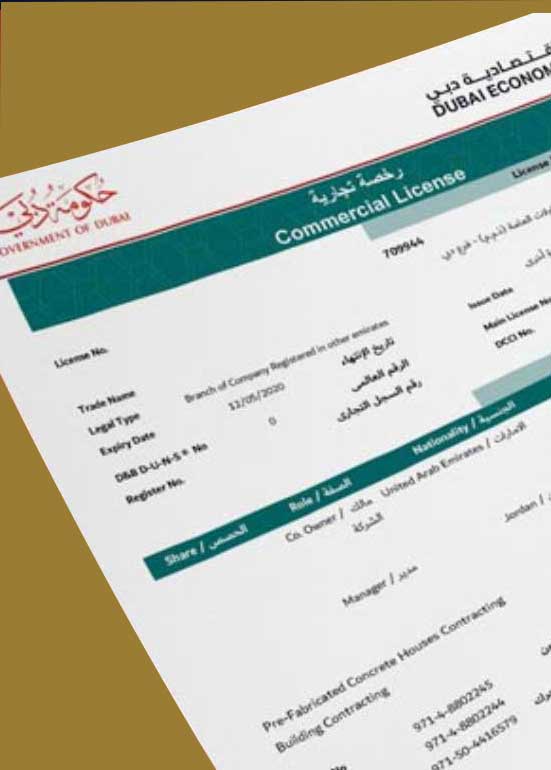 We have witnessed incredible growth throughout all sectors of the Dubai economy. The emirate's government is constantly working to improve its commercial transparency and introduce dynamic regulations that aid the formation of small and medium enterprises (SMEs) and could react to global financial challenges. Dubai's economy is no longer reliant on oil, but is more diversified, relying heavily on trade, services, and finance sectors.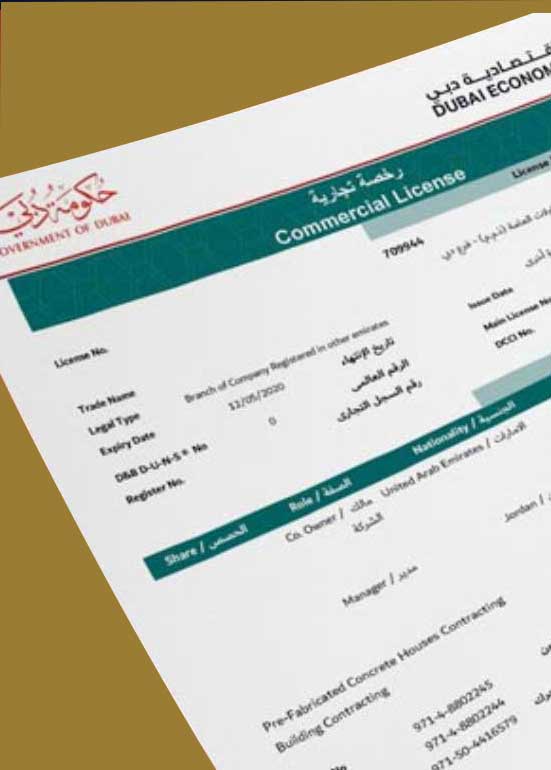 We provide all types of licensing services ranging from issuing
Initial Approval

Trade Name Reservation

MOA Typing

License Issuance

License Renewal

DED approval/permits
Premium Centre offers hassle and hitch-free Dubai Economic Department Trade license services handling regulatory, licensing, and visa requirements for individuals and businesses. Thanks to the proficiency of our team, our Centre can render quick services and achieve customer transactions within the shortest possible time.
Following is the types of business licenses in Dubai:
Entrepreneurs who wish to conduct trading activities in Dubai need to obtain a commercial license. The business activities in Dubai that fall under this license category are:
Importing & exporting goods
Selling electronic products
Real Estate
Commercial brokerage services
Selling of construction material
Retail stores
Rent-a-car services
Legal Liability Companies (LLCs) are the most common type of organizations that are set up under a commercial license. The license can be used whether the organization is set up on shore or in a free zone.
How to Obtain a Commercial License in Dubai?
The first step in applying for a commercial license in Dubai is to make a list of activities that you will undertake. However, keep in mind that you can't take up more than 10 activities (main and tertiary combined) on one license.
The next step is to draft an MOA listing the activities.
The third step is to register the organization with the DED.
Once the registration is done, you can then pay the fee and obtain a commercial license in U.A.E.
This type of license is provided to industries that undertake manufacturing activities. These are companies that transform raw or semi-formed material into the final product. The business activities for industrial license include:
Production
Segregation
Accumulation
Packaging
How to Obtain an Industrial License in Dubai?
The DED provides industrial licenses to business owners in Dubai. There are a few prerequisites to be eligible for a license:
You must have an Emirati holding 51% of the shares in the company.
The second prerequisite is having space for a physical office in Dubai. Virtual offices are not accepted under this license type.
Thirdly, it is required to obtain a local license from the company's area of operation.
Minimum Capital Requirement
There is a minimum requirement for the share capital which is around AED 250,000.
Lastly, the company needs to have more than 10 workers at least.
Procedure for Industrial License in Dubai:
Firstly, you will have to submit documents to the DED for initial approval.
After receiving the approval, you can apply for the industrial license in Dubai. The whole process may take up to 3 months.
Afterward, you will also need permission from Municipality and other authorities. Each will have its requirements for paperwork.
The third and final type of license is granted to individuals based on their skills and expertise. The biggest advantage of a professional license is that it allows 100% foreign ownership.  The only condition is that you need a local as your service agent.
How to Obtain a Professional License in Dubai?
The professional license in Dubai is provided by the Department of Economic Development. It can be granted for business activities related to the service sector. The process for obtaining the license is quite simple.
The first step is to make a list of business activities for the professional license which you will undertake.
The next step is to appoint your service agent who will handle all legalities.
The agent can submit the documents to the DED for initial approval.
Afterward, you will also have to apply for and register a trading name.
The final steps include renting out office space and submitting the documents for final approval.
Cost of Setting up a Business in Dubai:
A major factor that entrepreneurs need to consider is the total cost of setting up their business in Dubai. You need to have a realistic calculation in mind to enable you to plan effectively. Having a clear cost breakup will also save you many undesirable overheads and expenses.
As discussed above, there are two areas in Dubai to set up businesses. The costs for both these locations vary considerably. Other factors that affect costs are:
The type of business license you obtain.
The type of business you set up/ company you form (LLC, FZE)
Other charges for LLC formation in Dubai may include:
Rental charges for setting up an LLC in Dubai
The fee paid to the Department of Economic Development
The fee to acquire a mainland trade license.
Administrative fee
One-time Contracting license fee
Fee for a real estate broker
Other charges depend upon the type of company formation. For LLC companies, you may have to incur investor visa charges and employee visa fees as well.
How much does it cost for Investor Visa?
The investor visa costs approximately 3200 AED including basic insurance, medical, and Emirates ID.
How much does it cost for Employee Visa?
The average cost for hiring an employee is between 7000 to 7500 AED approximately including insurance, medical, and residency card.